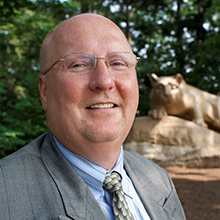 Edward J.
Glantz
Ph.D., MBA | PE, CISSP
E322 Westgate Building
University Park, PA 16802
Additional Title(s)
Director of Master's Programs
Education
Ph.D., Information Sciences and Technology, Penn State University
M.B.A., Wharton School of Business, University of Pennsylvania
B.S., Mechanical Engineering, Penn State University
B.A., General Arts and Science, Penn State University
Biography
Dr. Edward J. Glantz, P.E., CISSP has been with the College of IST faculty since 2009, where he has received IST's Dean's Circle of Excellence award, McMurtry Teaching award, and Thomas Community Service award. Prior to joining IST, Ed served ten-years with the Smeal College of Business faculty, receiving the Brand-Paiste Teaching award recognizing outstanding faculty. Prior to joining Penn State, Ed has almost twenty-years managing technology, research, and marketing in the manufacturing and telecommunication industries, including startup work.
Ed is Assistant Director, Masters Programs, and Coordinator of IST's Master of Professional Studies in Information Sciences - Cybersecurity and Information Assurance, and has developed and taught courses in security and enterprise architecture, risk, information security, application development, decision theory, and intelligence analysis. Ed's current research focus creates value for organizations by enhancing risk identification.
Ed is a registered Professional Engineer (PE), Certified Information Systems Security Professional (CISSP), and holds the Ph.D. in Cognitive Science from Penn State, M.B.A. from the Wharton School of Business, and B.S. in Mechanical Engineering and B.A. in Liberal Arts from Penn State. Ed has lived and worked in places such as Germany, Canada, New York, California, Washington, and New Jersey. Ed and his wife are passionate Penn Staters. Both are PSU alumni, along with their three children.
Research Keywords
Cybersecurity
Risk Analysis
Risk Identification
Small Businesses
Crisis Management